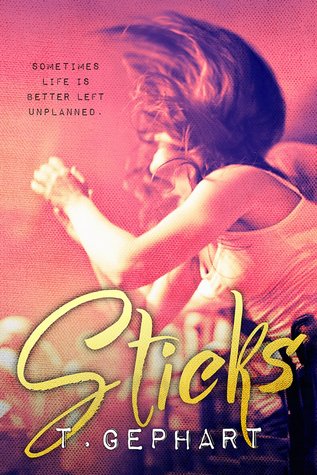 ***ARC PROVIDED BY AUTHOR FOR AN HONEST REVIEW***
This the second book in the Black Addiction series by T. Gephart and 'Sticks' focuses on the drummer of the band. I was thrilled to not only love this one as much as the first book but possibly even loving it a little bit more. This is another 5 star read.
Living the dream of what he thinks a rock star should be, loving the attention of all the women that comes his way and fun that you get from being in a popular band Joey Shaw is not one to complain. Also not one to ever plan on seeing the same girl again and again Joey would definitely not turn down the chance to hook up with Kenzie again. She had made him work for it the first time round and he didn't mind that at all. Unfortunately for Joey there is altogether different reason that Kenzie is seeking him out and he is floored to learn that he is to be a father.
Kenzie Clark loves being in a band and the life that gives her. By no means has she hit the big time but after touring with 'Black Addiction' (rising stars) and having a constant gig every week she has a lot to be happy about. She enjoyed sex and after a lengthy period of flirting she eventually got together with Joey. The night itself had been amazing but that was all it was meant to be, one night so finding out she is pregnant is a huge shock.
Kenzie and Joey have some decisions on how they do this. There wasn't a doubt on either side that they were keeping the baby but as they are not a couple they have to discuss how things will work.
Joey is hilarious, sweet and extremely loveable. Although I don't doubt that he is a sex god personified you can't help but have the aww moments for him as he really isn't the sharpest at times. Him and Kenzie work great together and you are urging them on to become a couple as you can't imagine them not being the best for one another. As snarky and witty Kenzie is when put together with the cockiness but adorability from Joey it just works so well together.
In this book like the first in the series brings you a great cast of characters that I so want to be friends with. The pace of the story works as well as the connection between the characters. There isn't much about being a rock star on tour type of story but more based on the people within. This is a great story with some laugh out loud moments with some really sweet moments and that makes it an all over great read.