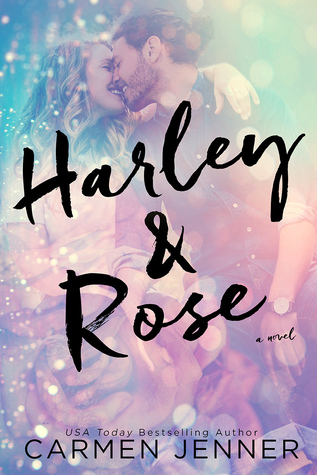 ***ARC PROVIDED BY AUTHOR IN EXCHANGE FOR AN HONEST REVIEW***
As a fan of Carmen Jenner anytime she has a new book out I am always eager to read it as I know I will love it and this was by far no exception. 'Harley and Rose' is probably my favourite book by Carmen Jenner as I really loved it and the emotions that she put me through while gripped with the story, it was an amazing 5 star read.
I fell in love with Rose right from the start as she is comforting her best friend, the man she loves with all her heart as he deals with being left at the altar by some other woman. Rose endears herself to you in many ways but this started it all for me. She has been I love with her best friend for many many years but he just doesn't see what is right in front of him, Rose.
Harley was set to marry someone who was all wrong for him but she ran off with someone else leaving him at the altar. He is devastated and looks to his best friend for comfort and she is there as she always is. They have been friends since early childhood and never really had their chance to be together. Something was always there standing in their way meaning the timing was never right.
This was such a wonderfully written and emotional book that will captivate you from the start. I was totally enthralled with Rose and Harley's story that I couldn't put the book down, even when my heart was breaking for them. I love second chance romances but this was so much more than that it was a story of true love, friendship and everything in between. It truly made me think about those around me and realise how little we take in and what we take people for granted. Get the tissues ready for you will need them but you will not be disappointed when reading this book as it is truly wonderful and will leave an impression on your heart.
As ever with Carmen Jenner's books there is a lot of humour, laughs and sass that I loved. This book will have you up and down, your heart will fill and it will break but I wouldn't change it as I loved every second of this book and everything it put me through.