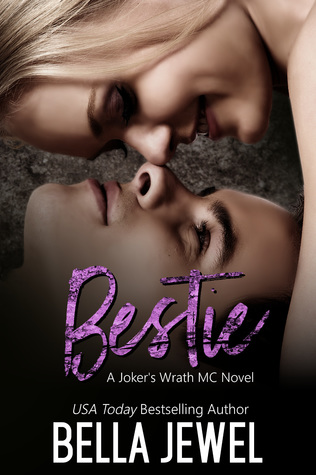 ARC PROVIDED NY AUTHOR IN EXCHANGE FOR AN HONEST REVIEW
Having read a few books by Bella Jewel I was looking forward to reading this one and she didn't disappoint. 'Bestie' is a great fun and quick read that I give 4 stars.
As part of the 'Jokers' Wrath MC' books this was a great addition to the series and made even more touching by the fact that a lot of real memories inspired parts of the story. If you haven't read the other books then don't worry about jumping in with this one as although there are some re-appearances of some characters this book focuses more on just Molly and Roman and their story.
Raised with the Jokers' club Molly doesn't have many people she can actually call friends so having her heart broken and finding someone to console you and make life better is a huge thing. Roman and Molly are two broken hearted people who find solace in an instant friendship. By fun and laughter they help each other heal and through this process they become something more to each other. Of course love never comes easy and there may be a few spanners in the works for Molly and Roman too that they need to get past.
I really enjoyed this friends' to lovers romance that had a great amount of laughter mixed in with heartache and angst. A great addition to the series and a book I would definitely recommend.
Reviewed By Louise G.