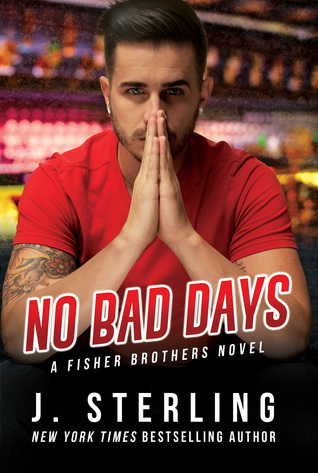 ***ARC PROVIDED BY AUTHOR IN EXCHANGE FOR HONEST REVIEW***
When J. Sterling announced that she was releasing a new book, 'No Bad Days', I knew I had to have it. She is a favorite of mine because she has a knack for writing some amazing characters, especially egotistical men that you will absolutely fall in love with, even if they can be jerks!
Jess Michaelson is just another college girl who of course can't help but notice the ever so popular Nick Fisher, who is the campus god. She doesn't believe she could ever have a chance with the likes of him, but after meeting him in one of her classes at the beginning of the school year, she is quite surprised that there is more to him than most see. He definitely comes off as egotistical, but once they hangout, she sees a side of him that nobody does.
Nick Fisher is of course the one guy that all the girls want. He is the president of the popular fraternity on campus and of course drop dead gorgeous. He has rules though when it comes to dating or hooking up with a girl, and he's wondering why he has never noticed Jess before. She has never been with any of his fraternity brothers so she's fair game and he wants her.
For a popular guy who everyone wants, or even wants to be, Nick has a side that the author shows you that will instantly make you fall in love with him. Jess is a small chase for him and I love how the author makes her play hard to get at first to make him work for it. Once they start hanging out, you see a softer side and find out things about his life that automatically leave you feeling for him and knowing that his life or any relationship for them will not be easy.
When Jess is told something by the school and circumstances happen, her and Nick have a rough patch and trust me this is the part that made me not want to put the book down. I actually devoured this within a few hours because I had to know what was going to happen! These two are destined to be together and I had to know what was going to happen in the end. I was crying and shouting in my head about how the author could do this to them, but it's all the things that kept me going and making me fall more in love with their story.
J. Sterling did an amazing job and I absolutely loved this book! I am hoping that the other two Fisher brothers get their own books because I really liked them as well.