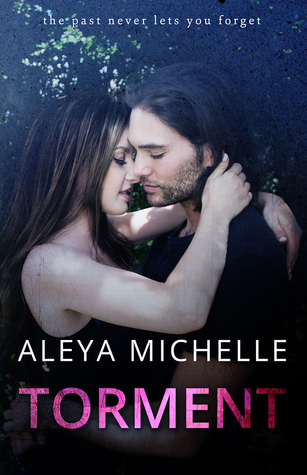 *** ARC provided by the author for an honest review ***
Torment is a standalone novel by Aleya Michelle.
Willow Steele is still coping with the tragedy of the past. She witnessed her mother's murder when she was only eight years old. She wanted to be able to save her mother, but she was so young, and afraid, that she could not be of any assistance. She has gone through a series of foster homes, each one a little worse in its own way, until she was sent to the last one. With the love and care of her foster family, she was able to come back from a dark
past.
Fifteen years later
, she is a college student, working to complete her degree.
Hunter Edwards has just lost his older brother. His brother was the golden child. He wishes that he had been the one to die instead of his brother, because everyone would be happier. He stops living his life in the way that he was before. He has no reason to move forward in the way that he was. He starts drinking every night and then he turns to drugs. Life just continues to fall apart and there is just no turning back.
Willow and Hunter meet in the rehab that is their last option. They are now here because if they don't make it, they will end up in jail, or dead. No good. Hunter sees Willow in the rehab and feels an instant attraction.
Will they be able to overcome their addictions? Or will their pasts contin
ue to bring them down?
I would give this book four stars.