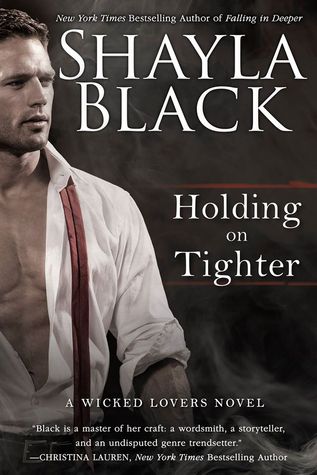 ***ARC provided by author in exchange for an honest review ***
Holding On Tighter by Shayla Black comes out this February. It's surely one you don't want to miss, definitely check it out. It's the twelfth novel in the Wicked Lovers series and the wickedness continues with Holding On Tighter. We find Heath Powell and Jolie Quinn as the newly main characters of Shayla's new book.
Heath Powell is a sexy British former MI5 agent; a breathtaking heartbreaking alpha. He's a player, a guy who knows what he wants and gets it. His latest mission is to keep Jolie safe. With his training, it's his mission as Jolie's security guard to guard her with his life.
For Jolie Quinn life gave her many struggles. From men, to the lies they tell, to secrets they keep. Her life gets worse by the day and now her company is falling under. She can't take anymore but her life doesn't work that way. Trouble finds Jolie and her sister and only Heath can watch over them. Save them!
Can Heath protect her not only from the dangers lurking around?
But can he protect her heart as well?
I found myself wrapped in from the beginning. Heath had to grow on me, but by the end I fell in love with him and you will too. 4 stars!